One Star Statue of Liberty Reviews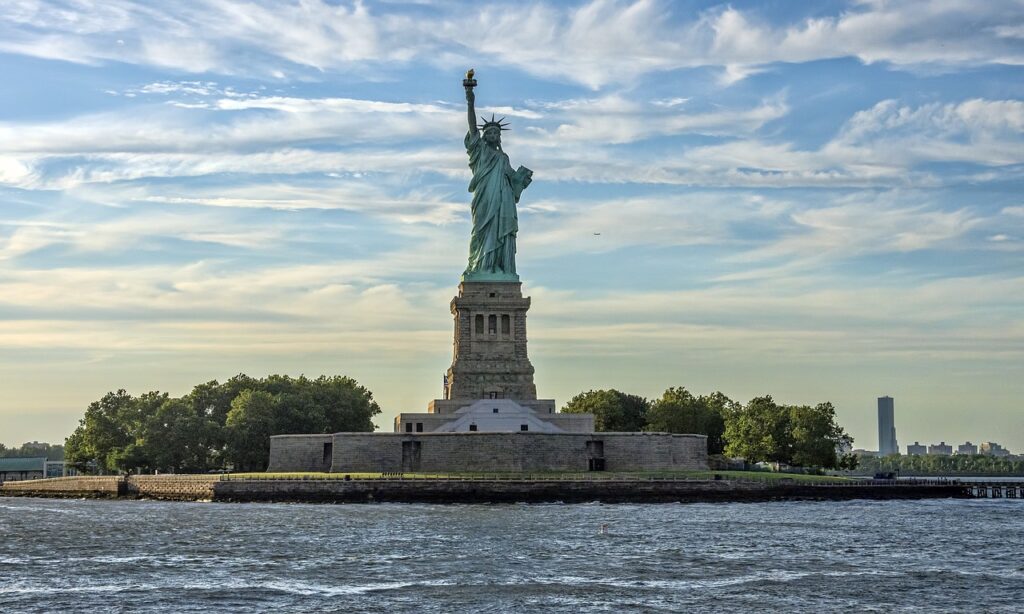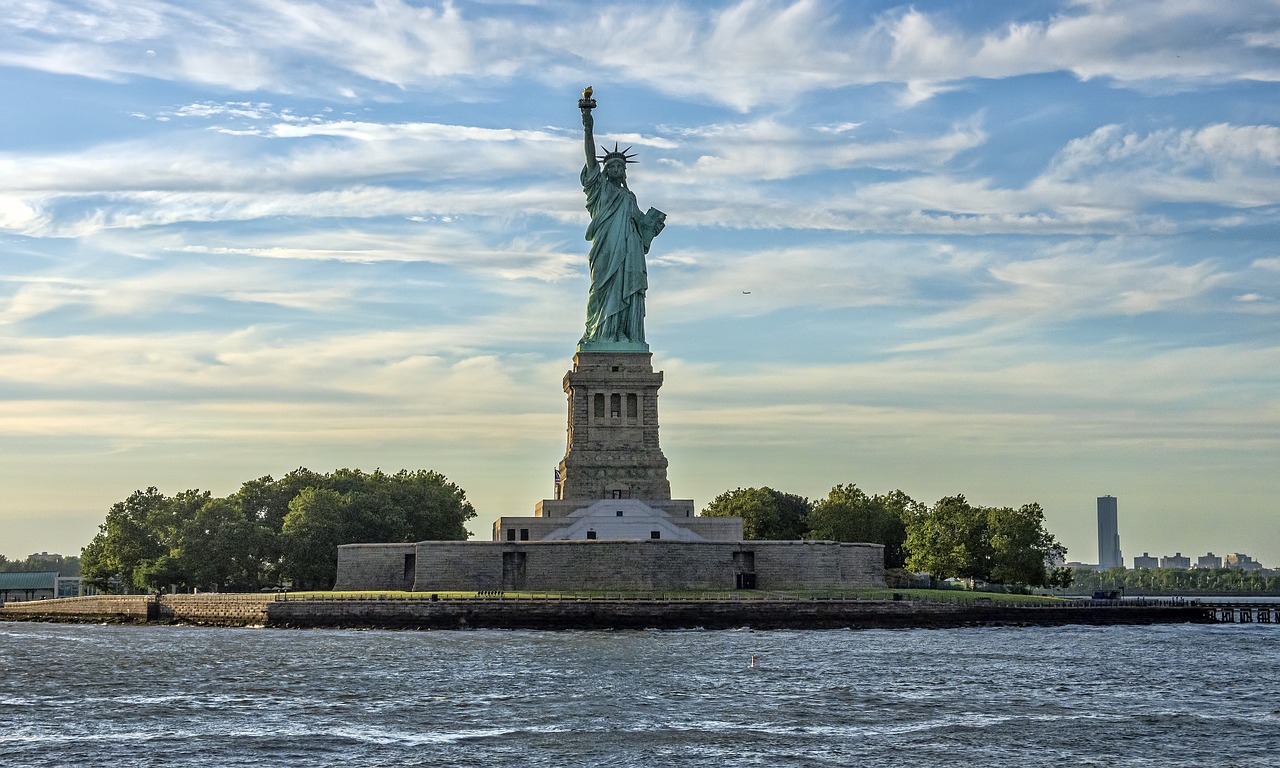 Any Statue of Liberty reviews you read should come with a note as to whether the person giving the review read anything about visiting the statue before trying to get there. From buying tickets from scammers, waiting in long lines, going through security checkpoints, to not being able to buy tickets to go up to the crown, any and all of these (and more) become subjects of one star reviews.
The Statue of Liberty was a gift of friendship from the people of France to the United States and is recognized as a universal symbol of freedom and democracy. Made of copper in France, the statue and its interior framework was shipped across the Atlantic Ocean in crates to its home on Liberty Island in New York Harbor where it was assembled on the pedestal which was built by America. The statue was positioned so that it would face southeast, greeting ships entering the harbor from the Atlantic Ocean. The Statue of Liberty was dedicated on October 28, 1886.
To see one star reviews of New York City, see our post here.
Many visitors to New York City also plan a trip to see the Statue of Liberty and Ellis Island. If you understand this is an all-day affair, then you should not get too frustrated with the lines for getting tickets, boarding the ferry, going through security, and other additional lines depending on whether you are touring the statue pedestal and/or crown.
The main charge for visiting the Statue of Liberty is the cost of the ferry, but this only gives access to the island. There are additional fees for accessing the pedestal and/or crown. Tickets to the crown is limited per day, and a maximum of ten people are allowed to ascend the stairs in groups due to there only being one way up and one way down from the crown. Visitors should also be aware that there is security screening and searches to access the ferry and then again if you have tickets to the pedestal and/or crown.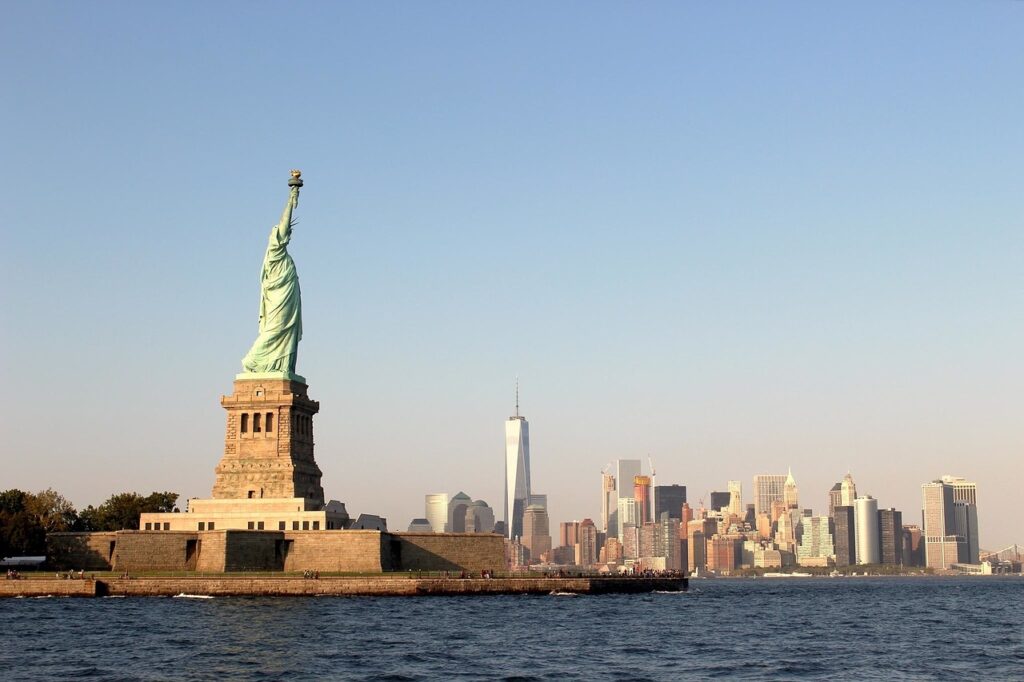 Statue of Liberty One Star Reviews
There are many reviews for the Statue of Liberty that spell out how to plan your visit and what to expect, from buying tickets to the crown well in advance (4 months or so should suffice) to arriving at least an hour before your scheduled time to get your pre-paid tickets at Will Call and go through another security line before you board the ferry boat.
However, many don't prepare and end up leaving one star reviews.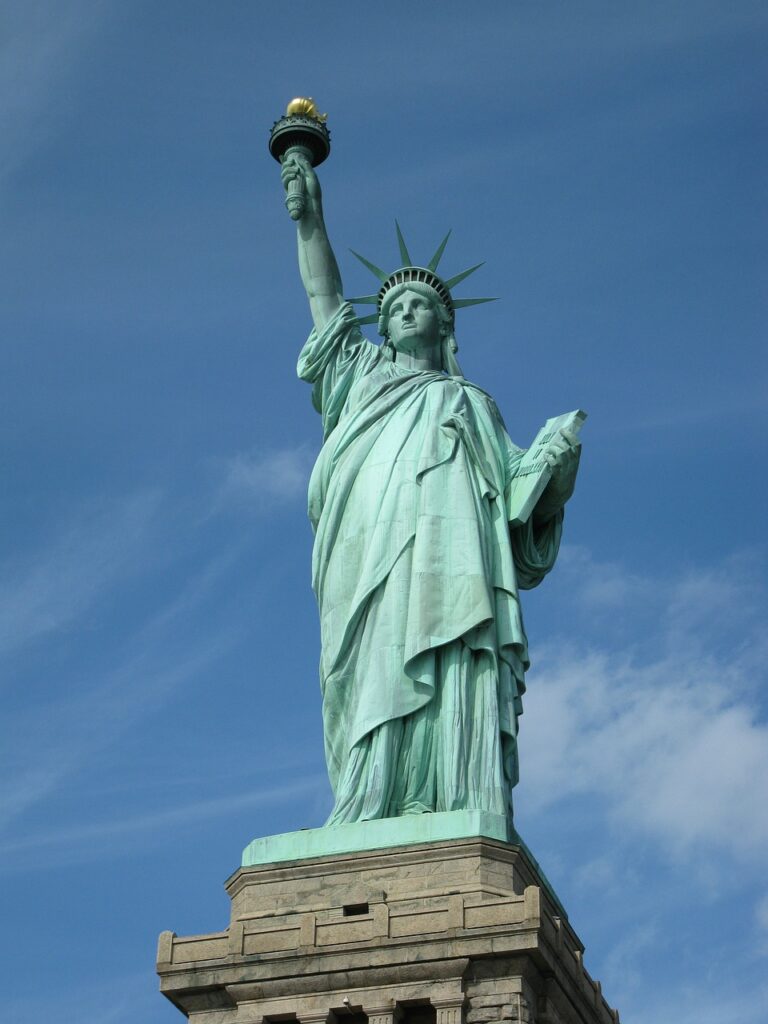 Statue of Liberty in New York City One Star Reviews on Google
There are over 62,000 reviews of the Statue of Liberty National Monument on Google. Out of 5 stars, the average is 4.7. Most of the reviews on Google say this is a "must visit," using words to describe the statue as awe-inspiring, humbling, beautiful, amazing, breathtaking, stunning, iconic.
However, there are also those who did not enjoy their visit to the Statue of Liberty.
Below are some one star reviews of the Statue of Liberty from Google:
Many of the bad reviews are about the number of people that visit the statue and security:
"The site is wonderful but it is way to crowded. To many people and not enough employees and security to handle the people. The system they have is pretty much just hurd everyone like cattle into the smallest security section. They need a better system."
"Waste of time. Don't go if you hate que and waiting for at least 2-3 hours. Total waste of time."
"Post 9/11 hysteria at it's finest. Get screened by incompetent, unqualified staff for 50 minutes just to arrive and be forbidden to bring bags to the pedastal. Lockers are offered but are cash only in 2019. Just download a google image and save yourself the trouble."
"Practically strip searched, then to go up on the pedestal they force you to put your bag in a locker tied to your fingerprint and charge you $2 in cash that you probably don't have because it's 2019. Why can't you bring a bag up, that was already completely searched?"
"Airport Style security checks with very long lines. Arrived at 1PM at boarding place and reached statue at 3:30PM even after skipping Ellis Island. 2.5 hours wait for crossing such a short distance is definitely not worth for a 30 minute tour of the statue. No reason for conducting 2 security checks when 1 check can suffice. Backpacks were not allowed even after 2 security checks, which is ridiculous. Even airplanes allow it. Forced to rent a locker at the statue entrance for a fee to store the backpack. Took biometric fingerprint information without permission as the key for the locker. No idea about privacy of fingerprint stored in the system and when that information will be deleted. Overall terrible impression for visitors. Ferries take an insane amount of time to load and unload."
"Horrible crowds and long lines for everything. Impossible to enjoy."
"We went to the cafe on the island where my sister and niece before us walked into the cafe and then arbitrarily at me and my son we were stopped and told they were closed (a half hour before the ferry comes.) Then my sister and niece come out with food at 4:32 and at 4:37 everyone was forced out of the restaurant. The food was not able to come with you either as it comes on ceramic plates. So if you didn't eat it in 5 minutes, you don't get to. We were all forced into the ferry line even though the ferry had not arrived yet and then (as if it wasn't bad enough) The staff were all screaming at us to move forward like cattle until we were all chest to back with absolutely no space between us and the person in front of us. This happened for absolutely no reason. It did not change anything at the back of the line. The most I can figure is it meant that these employees would have to work 8 seconds less at the end of the day if we were all crammed like cattle. Then when the ferry came we were screamed at to walk faster."
"Waited in line under hot sun for hours, after buying the tickets, then airport style security,…felt like cattle on a back of an18 wheeler truck, pushed from ferry to ferry…finally get to the statues island, dying of thirst…..$ 5. for a cup full of ice and a drop of lemon juice with water…. terrible experience,….if you guys HAVE to go, PLEASE GET TICKETS ON-LINE,…it'll save you time, headaches and another $10 cause you have to buy an umbrella for the hot sun while waiting in line."
"The wait is over 2 hours. Do not let them tell you its only am hour. They are so disorganized. Prepare to spend 4 hours on this. Not worth it. Security line is the worst. They do not care and are slow to do anything. Almost 3 hours i waited to get on the boat! Worst time!"
"I don't know how looking at a big green statue makes up for the multiple hours you spend waiting in a line. You have to wait in a line for about an hour and a half to get on the ferry and then another hour long line to leave the island."
"Just take the ferry to Stanton Island. The Statue really isn't worth visiting. It's tourists everywhere and an obnoxious place to visit. There is less security at an airport than there is to go see this statue."
"The people at security and the Crown cafe needs to learn some manners and be more polite to foreign tourists who have no clue of the rules and who can't understand the language .
So rude it's down right disrespectful for what the monument stands for"
Other reviews touch on the additional fees or closing time:
"What really irks me is the pricing and upgrade options in visiting this attraction. I could understand that not everybody not want the full experience on going to the crown and to pay separately for this is understandable. BUT having to pay separately to walk up the stairs to walk on the pedestal is just ridiculous. What is worst is that paying for the upgrade after you bought the basic admission was not given to me as an option. And by the way it is an Island so it is cold dress warmly."
"No offense to the rank and file gov't employees on station at the NPS Monument, but, frankly, their concessionaire and they themselves are too cheap to provide any signage that pedestal access closes 2 hours before the last ferry. The only evidence of that is on the fine print of an e-ticket. Nothing on the ferries, at the embarcation point, at Ellis Island, at Liberty State Park, in the confirmation email. Nothing. You are on your own. Hope you read the fine print.
Why "Statue Cruises" lands a ferry with perfect timing so that people walking to Pedestal Access get there at 5:02, when it is clearly all locked up promptly at 5:00 on the dot with no exceptions is beyond me."
There are also one-star reviews from people complaining about needing advance tickets to go into the statue and up to the crown:
"I was disappointed in this park visit. First is the fact that the Statue of Liberty (symbol of freedom) offers no discount to military or veteran members who are the very people who fight/fought for freedom; that is shameful.
Second, you literally have to plan to visit the statue months in advance if you want to go in the statue. Not trying to be funny but who plans a trip 3-4 months in advance for a monument smh. We went because my son wanted to see, "Lady Liberty" so we headed up for the weekend only to be told we had to go online and book ahead of time; there is literally no option to buy a ticket on the day to get into the statue. It's a shame that this is what it has come to in the US, we can't enjoy monuments freely; we were told background checks needed to be completed prior. I had to chuckle to myself, both my wife and I are military and you go through security check point and yet a background check is needed; the reasonable approach concept has definitely left the building."
"Just take a ferry that goes close to the island. It's definitely not worth the time and the cost to just enter the island. You wont be able to enter the statue without pre-booking."
"We should've taken a Staten Island ferry instead. The queue for the Liberty ferry is too long, slow and crowded. We went through "airport-style" security, which was really slow, we were in queue for security, for I think more than half an hour."
And then there are these … trying to be funny?
"When is the last time this was cleaned. ITS GREEN!!"
"Suppose it was a gift or something? Not sure I get it..
Nice little boat ride though :)"
"Why is she holding a torch that doesn't light up
Rip off"
"i dabbed and she didnt dab back i was a little disappointed."
"giving this a bad review because her arm has been up for so many years and is probably tired as hell. LET THE LADY RELAX"
"Her feet are attached to thing big platform thing
give liberty some liberty
let her walk free."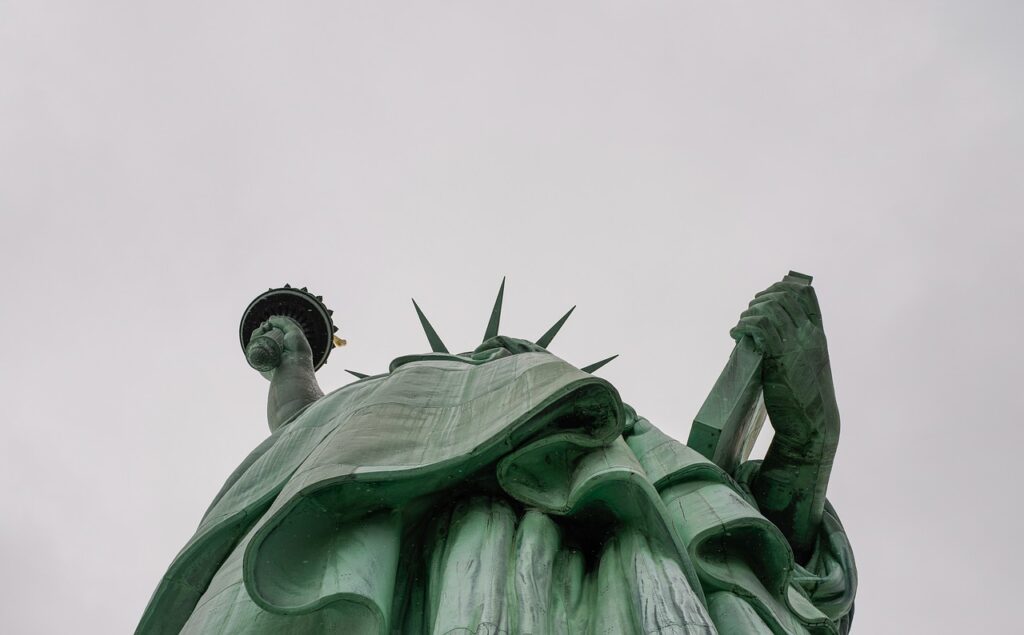 Statue of Liberty One Star Reviews on Yelp
There are about 1,000 reviews of the Statue of Liberty on Yelp – with an average rating of 4.5. Many of the positive reviews recommend planning ahead and buying tickets online for the crown tour.
The 1% of reviews that are one star mostly complain about the crowds. As many say in the better reviews, if you persist in getting through the long lines you can have a great visit.
Below are some of the one star reviews for the Statue of Liberty on Yelp:
"To be able to go inside, you have to purchase tickets 3 to 6 month in advance. Otherwise you can only walk around in a circle and look up at the statue from the outside."
"Worst place I visited in NYC. Rude employees, long lines, and crappy security. Def not worth the time or the money."
"I wouldn't wish this experience on my worst enemy. Imagine a combination of prison and the worst airport security. You won't get close to the horrors our (yes i am a US taxpayer) Park Service has created.
I don't feel very safe when these amateur clowns can't even take tickets and manage a line.
If you want to feel embarrassed to be an American then you can find it here.
Horrible – Awful – Terrible."
"If you enjoy waiting in line for 3 hours, getting on a boat, looking at a statue, and then waiting another 3 hours to get on a boat you would give it 5 stars but I didn't think it was fun."
"Lines. Lines. MORE LINES. Security everywhere – (THREE security screens involviing removing all metal, including belts and coins). Ungodly crowds. Each Ferry holds about 700 people – and they pack them to the point of being scary (especially when the ships start listing from everybody pouring to one side to get the F**** off that ship of fools). Screaming babies, cranky children, lines, lines, lines … it was the worst tourist experience I've ever endured. And once you get there? More lines. Lines for the elevator – or climb. I chose to climb. And when I got to the top of the pedestal, it was so jammed with people you couldn't step out. A horror. A waste. The National Park Service has once again failed miserably."
"This is horrible! Huge lines and super pushy staff. We've been here an hour and haven't got on the boat yet. So far this is just a huge sacrifice to check off the "been there" box. There is NO attempt to make this quicker, smoother, or more pleasant. Quite the contrary, the process is poorly thought out and the employees are jaded, thoughtless, and borderline rude. Seriously, this just sucks."
"The statue is beautiful and wonderful but the whole process is terrible. First it truly is airport style security. You need to clear out your pockets, take off belts, watches and etc. The worker are extremely lazy with the except of a few. They are deceiving as well. Was told we had enough time to make the ferry, upon arriving at the gate before the departure time they didnt not allow us to get on. Afterward the attendant told us the next ferry is in 15mins. To our surprise the ferry did arrive in fifteen mins however it wasnt departing for another 45. Making us wait a full hour just for it to leave the terminal. If we would have know this we would taken our time to walk around but was instead advise to wait. Was unhappy with the whole experience."
"A completely, utterly horrifying experience. One that I couldn't recommend even to my enemies. we walk down to the pier. Here, fences form 4 different lines where we are "cattled" in by a yelling, whistling officer. He was shouting and whistling, "GO THERE" "FASTER", "COME ON NOW" etc. etc. The waiting line, which is outside, in the cold, took almost 2 HOURS, even though we had prepaid tickets. What was the line for, you might ask? Well, a complete security check like when flying in an aircraft. Come on!
This whole "thing" completely eliminates the joy of the experience. The statue is beautiful an all, but it is impossible to enjoy anything after being treated like cattle for 2 straight hours beforehand."
"Never Again – although I think the statue is beautiful, it's not worth the bull sh*t that you have to deal with to get there.
I understand that in this day and age of global terrorism you need to be searched….. but 3 separate times?!?!
Search One: To get on the ferry to the Island.
Search Two: To go into the statue
Search Three: Ellis Island – And the lines are FROM HELL!!!!
Not to mention the workers doing the searches aren't exactly NY's finest citizens…. Do yourself a favor – take a picture from Manhattan and do something better with your day."
"Do not call the customer service number 1.877-LADYTIX (877-523-9849). You will be wasting your time unless rudeness is your thing. Welcome to New York."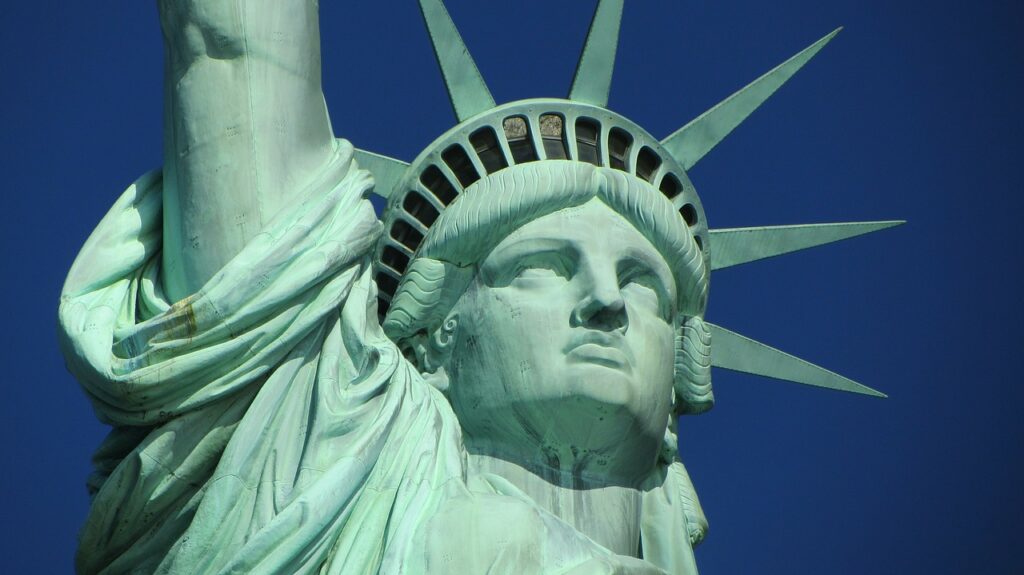 Statue of Liberty One Star Reviews on Trip Advisor
The Trip Advisor website for the Statue of Liberty has a few ads for booking tours – but most of the site is dedicated to photos and reviews.
There are over 42,000 reviews of the Statue of Liberty on Trip Advisor – with an average rating of 4.5. Over 65% of the reviews are 5 stars, many saying it is worth it despite the long lines and recommend going on a sunny day. Pre-booking tickets to climb up to the crown is also highly recommended.
The less-than-1% of reviews that are one star mostly complain about the long lines and security. Others warn about buying tickets or tours from other vendors besides the official tickets.
Below are some of the Statue of Liberty's one star reviews from Trip Advisor:
"You are herded like sheep from the moment you arrive. Made to queue for hours in the open in 35 degree heat as it is far too busy and uncontrolled. Everywhere is busy – the queues, the ferry, the island! We spent more time queuing than actually being on the island and going up the statue! We went up to the pedestal and it was all for a less than overwhelming view. Do yourself a favour and don't bother!"
"Worst place ever. I do not recommend anyone to go here because of the following reasons.
1) Firstly you have to wait in the sun for 20 minutes for a boat to arrive. I wonder what would happen if it was raining.
2) Secondly there is not control of the amount of people going in so the place is very crowded and unpleasant. The walkway in the pedestal is crowded and there is no space to walk.
3) Lastly there is no AC in the security check or in the statue making it very unpleasant in the statue.
In conclusion I would not recommend anyone to do this tour cause it is a waste of money and can be unpleasant and make you very tired. This tour is hyped and the biggest waste of money."
"Waited in line for over an hour and a half only to watch them open up a new line and let hundreds, yes hundreds, of people go past a big group of us. They opened the reserved line as soon as we past a certain point and one group behind us.
Apparently there is no difference in the reserved time line and the a"flex" ticket because the Park Service is clueless.
We never made it in. I feel cheated and it feels like they have stolen money and all the other people around us that they did this to.
I would never recommend this attraction to anyone. If they cannot manage a line – how safe do you feel? I don't. Clowns and buffoons cannot protect anyone."
"When you buy the tickets you don't see the queue!!! Then you get told by rude staff to move forward in the queue so that you feel like a sardine in a tin!!! Once in this packed area there is no way out: There are people pushing and metal gates all along the lines. We were with 3 children who were almost crying and wanted to go somewhere else. I almost had a panic attack, and kept thinking if anything happens hundreds of people would have been crushed: When we finally got into the building for the security check (this was the reason for the queue) there was a very big angry police/security woman who wanted to argue with everyone and was agressive and rude!!!We even paid for this!!!"
"There are hordes of miserable people in line, literally thousands. The staff are not the least understanding, just interested in cramming people in like cattle."
"I wouldn't even bother trying to visit the island without reserve tickets. The tickets we ended up with for our trouble weren't even for crown access. And this was *with* a CityPass. The whole thing was a huge waste of time and came pretty close to ruining our day."
"So, went on line to book tickets onto pedestal and crown. Sold out (for a few months). Decided to go down and try at the ticket office in Clinton Fort. Joined a long queue outside, hoping it was the ticket queue. 40 minutes later, got near the front to read a tiny sign at one of the 5 ticket windows which said pedestal and museum tickets sold out for the day. Why didn't they tell you this before you start queueing? We came out and saw hundreds of people queuing behind us, oblivious. Went and stood in another long line ( one of three) go get through "airport style security". This would have taken another hour, as the line wasn't moving. We saw the small ship heading off for the island with hardly anyone on board. In other words, be prepared to stand in the cold for ages before even getting on board. All in all, a poorly organised shambles. Very little information, unhelpful surly staff, long disorganised lines and you can't even get to do what you came to do. Avoid avoid avoid."
"I love exploring history and all that….however the slow, cramped, cumbersome climb to the top of the corkscrew-type stairway leading to the top of the Statue is over-rated, in my humble opinion.
Very crowded. Very slow. Once you reach the top, there's really nothing there to reward your patience. People squashed next to you, virtually pushing you forward."
"1. You wait in the line for 20 min and show your ticket;
2. You wait 20 min to left your backpack in storage closet and you pay 2 usd for it, no where before it is informed about this charge.
3. You wait 40 min to enter the final line inside;
4. You wait 20 min for elevator;
5. You spend 5 min near the statue and go back to the ferry."
"We queued to buy the ticket then we queued to go through security, then another queue to get on the boat followed by yet another massive queue to get back on the boat. In total we queued for almost three hours and throughout it all had to suffer the bullying, pushy, staff whose wages we paid. Everything took so long that we had to give the Ellis Island leg of the tour a miss else not make our Broadway show."
"Sure it was below zero but the sun was shining and it was a beautiful morning. But WOW what an appalling travel experience.
To treat US citizens or international guests to what was a massive cluster f#%k, I was amazed people were not more vocal.
Non-existent signage (with multiple queues), National Park officials barking out commands, unbelievably slow ticketing (even after online purchasing), poorly administered queues that were totally exposed to the rain, wind and snow. I could imagine people suffering exposure during poor weather.
This is definitely a Government run show. It should be a celebration of one of the US's great symbols, but not for me. The only positive takeaway is how forgiving and tolerant people can be when faced with such unforgivably poor service.
Next time I'll take the helicopter tour."
"Got stung by the operators of the Queen of Hearts. How stupid do I feel! If somebody comes over to you pretending to be selling official tickets tell him to f@&k off. Go and find yourself the REAL tickets located at castle Clinton.
I got stung. 80 dollars for two of us. Bundled into a beat up bus. Witnessed a fight between the conmen. Took an hour away to NJ. Left to wait by the shore for an hour. Took out eventually on the Queen of Hearts boat. Promised we'd be able to get off the boat to take pics. No chance of that!
Avoid at all costs!!!!"
"Do not get ripped off like we did! There are people in Battery Park that have "Authorized ticket seller" vests on and have IDs and all. Do not buy from them!!!!! They charge more than a regular ticket and tell you the other cruises are sold out for the day. You are sent to another Pier because "they don't operate from that location anymore". You wait forever for the boat since you are stuck in a location they drive you to. These people are good because the boat is filled to capacity and holds at least 300 people. There are no seats, only wrought iron railings that don't seem sturdy to hold on to. The city needs to look into this outfit. The boats are called The Queen of Hearts and the Paddle Queen. They made us wait because 'one of their boats wasn't running' ruining our only full day in the city. We were told that the only way to get your money back was to go find the original ticket seller. Good luck with that!"
"Do not buy tickets for the boat ride from the guys that approach you on the Street as you enter Battery Park. They are a total scam, and double the price of the official tours."
"Please note for all the handicap people in the world. If you want to take a tour at the statues of liberty forget it. You will definitely be disappointed."
"Not really much to see, i should have taken the advice on the web and taken pictures from the statten island ferry which is free."
"Its just a statue in the middle of the water, not as big as we thought. Its also very expensive to go near by it so a trip there isnt worth the money really."
Have you been to the Statue of Liberty?  Are any of the above one-star comments reflective of your experience?  And even if you haven't yet been to the Statue of Liberty, what do you think of these comments?  Please share your thoughts below.
___________________________________________
Please follow and like us: