One Star Colosseum Reviews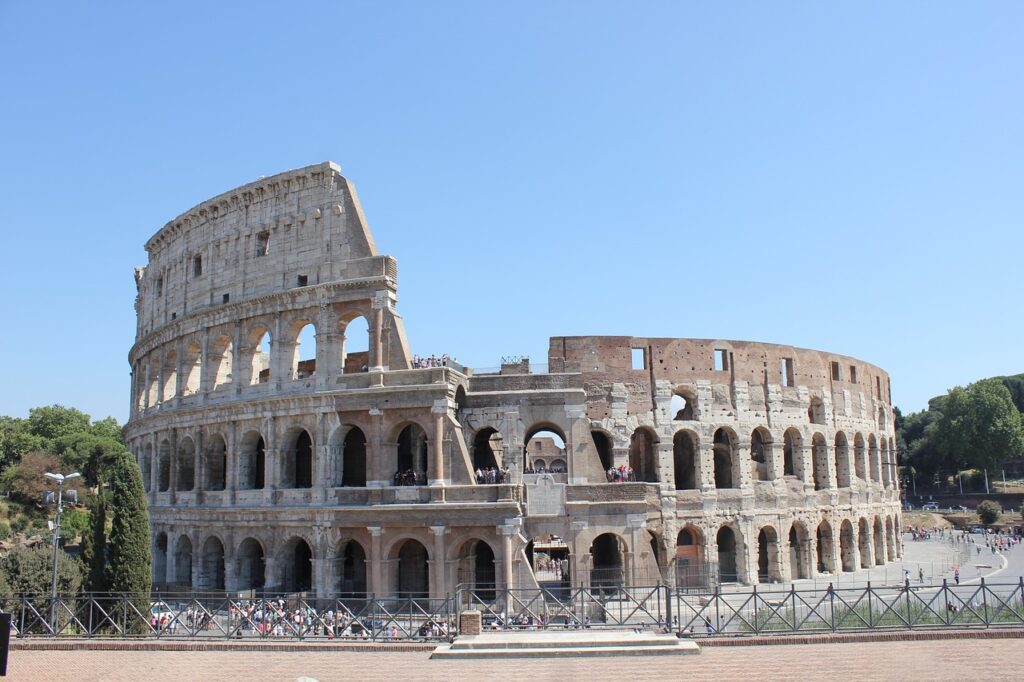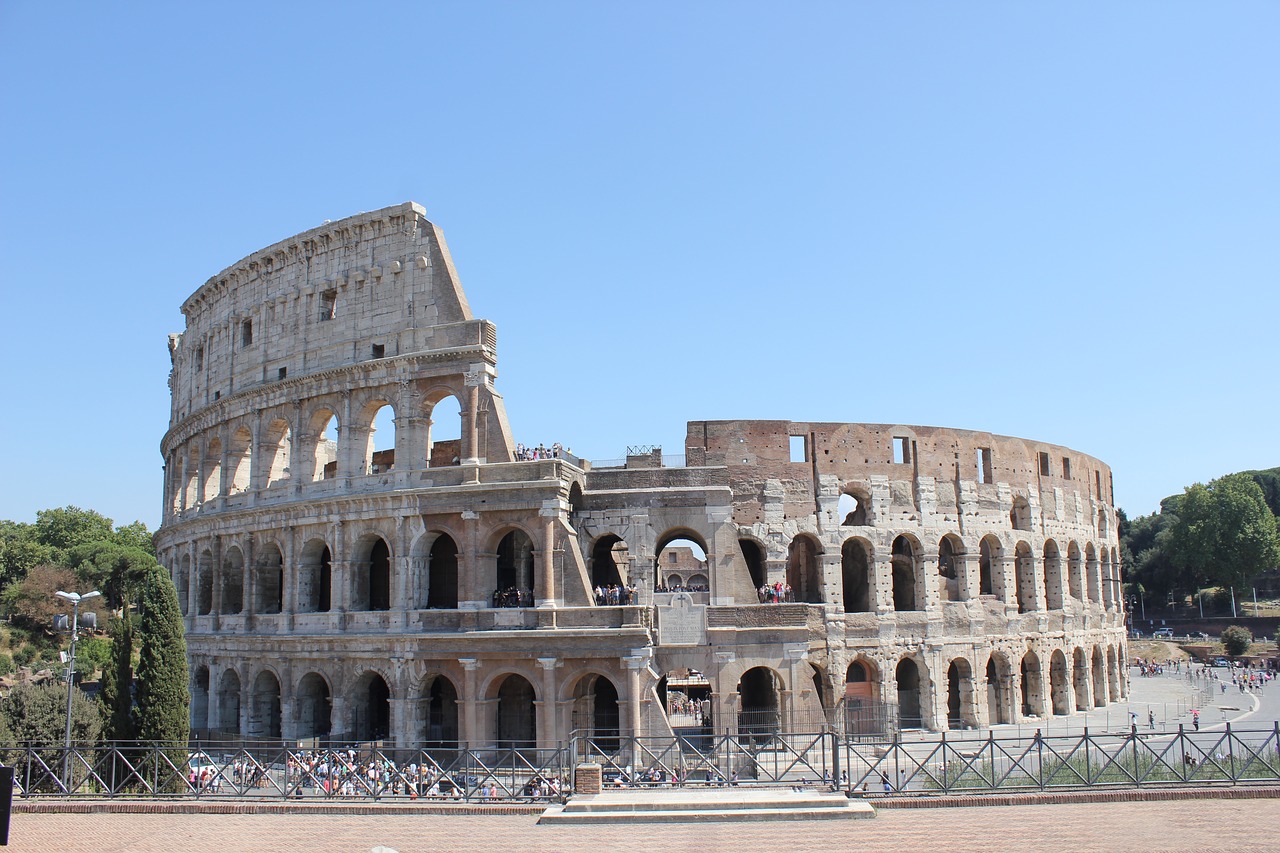 Colosseum reviews can be helpful when planning a visit to Rome, Italy. Tourists flock to the older sections of Rome, particularly in the summer. Aside from the Colosseum, there is also the nearby Roman Forum and Palatine Hill to see, and many decide, after reading reviews, to skip waiting to get into the Colosseum and instead spend a more relaxing time outside around the Colosseum and neighboring Roman ruins.
The Colosseum, also known as the Flavian Amphitheatre, is an oval amphitheater in the center of the city of Rome, Italy. Built of travertine limestone, tuff, and brick-faced concrete, it was the largest amphitheater ever built at the time. Constructed between 72 and 80 AD, the Colosseum could hold up to 70,000 spectators, and was mainly used for contests with gladiators.
Over the years the structure has not worn well. There have been a series of renovation/restoration projects to help preserve the Colosseum, some of which have involved rebuilding portions of the building using modern technology and finishes … which can clearly be seen when visiting. Perhaps if it was not for these restoration projects maybe the Colosseum would not be standing as it is, but that doesn't stop visitors from complaining how poorly they think the modern finishes clash with the original parts of the building which are still standing.
Most tourists who want to visit the Colosseum have never been to Rome before so don't know how to navigate the long lines and tour companies. Even the "skip the line" promotions can end up with you waiting in lines for much longer than you think.
When visiting Rome, there is so much to see that you have to decide whether spending half a day in line to get into the Colosseum is worth your time.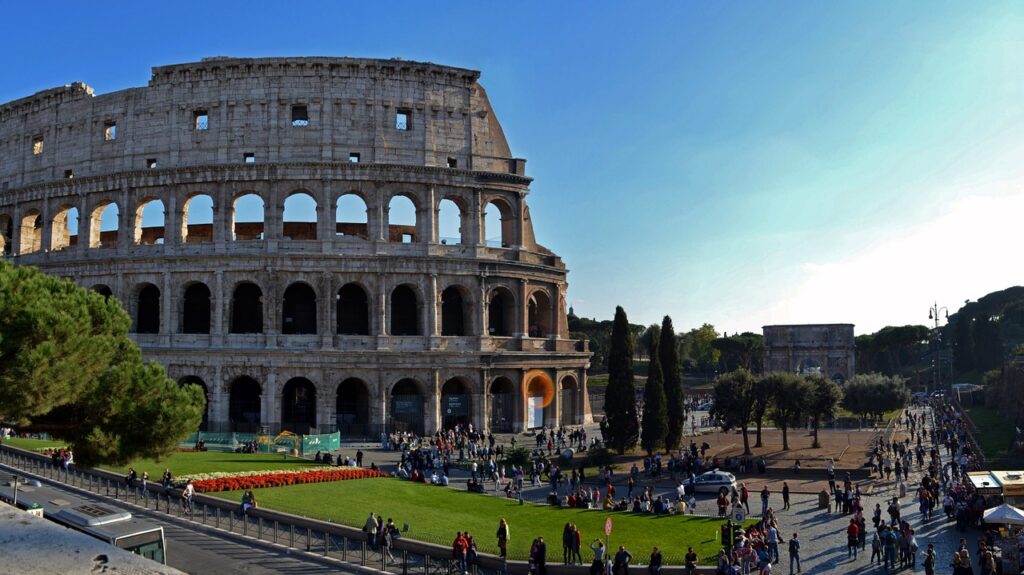 Rome Colosseum One Star Reviews
Colosseum reviews could be read to prepare for your own visit to Rome. The structure is very large and if you have the time is well worth seeing the inside for yourself, especially knowing that it is over 2,000 years old. But that doesn't stop people from complaining about the long lines, cost, and what can sometimes be terrible and rude Italian service.
Rome Colosseum One Star Reviews on Google
There are over 200,000 reviews of the Colosseum on Google. Out of 5 stars, the average is 4.7. Many of the reviews praise the sheer size of the building and once inside one can easily imagine gladiator fights in the amphitheater. But many tourists can't get past the long lines and rude behavior of other people, or don't understand what a great 2,000-year-old structure the Colosseum is. Others pay for guided tours that don't end up being what they expect, or pay extra to skip the line only to have to wait in another line to get in. The best advice is to be prepared and know what you might expect when visiting the Colosseum.
Below are some one star reviews of the Colosseum from Google:
Many of the bad reviews are about the ticketing and how long it takes to get in:
"The one star is obviously not for the monument itself! The monument is amazing! But the ticket services are just ridiculous!!! The waiting time is ridiculously long and under the sun with no shade provided whatsoever…Book your tickets in advance online but even then I think you would have to wait too… all in all it's a torturous situation especially in the summer."
"Not for the monument of course, which is a beauty, but for the incompetent Italian Services which take 2 hrs to service 50 ppl for their tickets. Very disappointed from a supposedly advanced Country – Member of the EU."
"…The queue was intentionally kept longer so people buy guided tours costing more. Disappointed."
"2 cassas are open at the entrance, 8 cassas are CLOSED. Line is 1 km long, you have to wait half of your day in the burning sun. It's disgusting how they disrespect tourists they are living from."
"Very badly organized! Don't go there! Waiting time with pre-bought ticket over 90 minutes in the sun without any shadow. Waiting consumes your precious time!"
"We had reserved ticket for a guided tour, showed up to pickup tickets 2 hours ahead, where they said to be at the gate, line two, 30 minutes before the ticket's marked time (gates and lines are not marked as such, so asked a dozen guides where to go), we arrived there and they turned us away, said we could only come back 10 min before ticket time, we came back twenty minutes before ticket time, and were told to stand in the ticket holder line… Which was 30+ minutes. We asked several times about marked ticket time "no problem, won't worry". We get in finally, and had to ask several people where to go to get to the tour meeting point, to find we would not get it, too late. Sent from desk to desk to find out what to do… Was basically told it was my fault for not being there on time (even though they turned me away)… 'this is not a pizzeria' one person told me."
"Euh… Nope sorry but there is 45 millions person around it.. I wanted to go inside hahahaha this is just impossible if you are not waiting for at least 2 hours under 35 degree celcius! It was cute to see tho.. from outside."
Other reviews touch on some of the rules and lack of professionalism at the Colosseum:
"I was truely astounded that having travelled to so many places in Italy and been welcomed along with my very small dog, that there is a "no dogs allowed inside" rule at the Colosseum… In my mind this is an absolute insult to all the living creatures that lost their lives in the name of entertainment to the human race at the Colosseum in Rome."
"Colosseum was amazing, however the guided tour in English was very disorganised and quite poorly executed by the unprofessional and inexperienced guide. We ended up breaking off from the group and doing self-guided which was much better for learning and photos."
"Great monument but such a poor organization. Moreover the website says that it's free on the first sunday of the month but this is false, we had to pay. We waited over 2 hours, that shows that the organization is terrible."
"I DO NOT RECOMMEND at all for PAID entrance. It is not disabled or elderly friendly at all. Even as a young person your back will hurt from hours of standing in the queue plus climbing flights of stairs once inside."
There are also one-star reviews from people complaining about the number of people or the ongoing construction:
"enormously crowded… Currently being renovated… Very little to actually see or discover. If you decide not to enter you will not miss much."
"If you go there you should have the ability to control your urge to go to rest room."
"Too many gadget sellers!!"
"Rubbish. Absolutely nothing like it's portrayed to be. Also covered in scaffold."
"We waited 3 hours in line even tho we arrived early in the morning, there was really pushy annoying salesman. Once inside, the whole thing was in renovation. Really ugly and overrated. I don't think it deserves its title or wonder of world one bit. Don't waste your time going inside."
And then there are these … trying to be funny?
"Dirty streets, smelly and totally not like the pictures. Could be improved."
"Derilict and crumbling. Should really do a refurb. Maybe a lick of paint too."
"Needed some remodeling. Really falling apart. The gladiators weren't even there."
"The charges are not worth. This place has a long bloody and cruel history, i do not see any point in contributing its re-construction."
"Why do we even celebrate this places. It was cruelty that went in here."
"When we arrived we were informed that the gladiator fights had not taken place for over a thousand years. Waited in line for nothing. My advice is to go to a boxing match or UFC."
"Most overrated attraction! Even if you prebook your entrance and have the Rome pass you will wait in que at least 30 minutes. Nothing to see just stones. Mostly . Typical Italian product. Much hype and no substance. Just save your time and go to Vatican Museum. … and a good gelato place."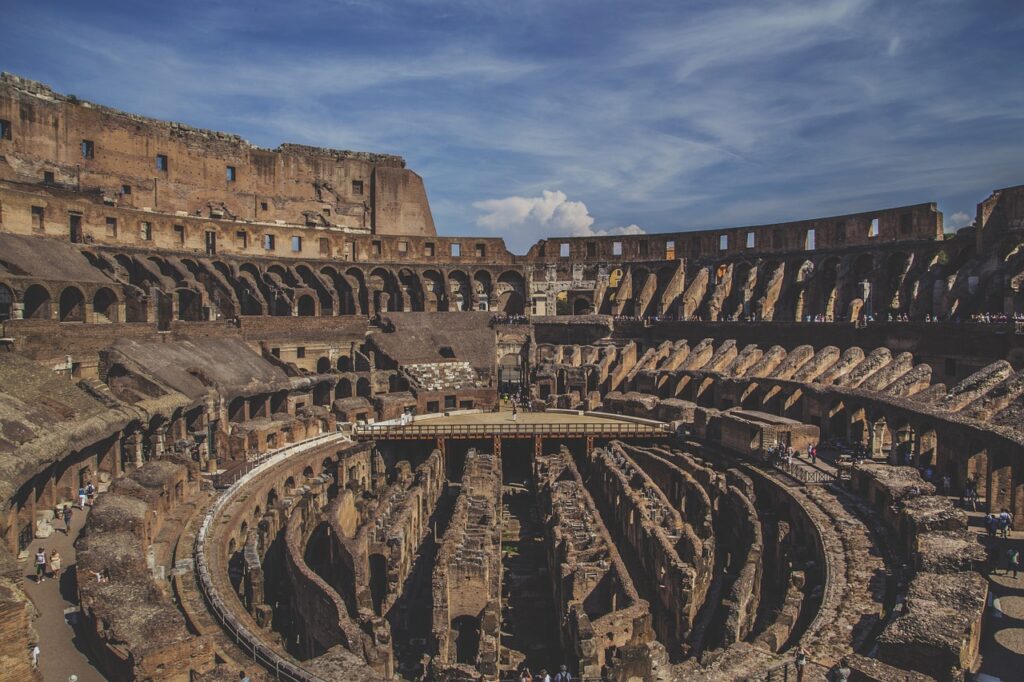 Colosseum One Star Reviews on Yelp
For the Colosseum, out of over 900 reviews, the Colosseum has an average score of 4.5 out of 5 on Yelp. Again, many great reviews of this immense amphitheater can be found. But some people can't help themselves from trying to be funny by giving a one star review.
Below are some one star reviews of the Colosseum from Yelp:
"First off…half the wall is missing. The place is so old and is completely falling apart. I expected more from this destination. Very disappointed. There's no floor in the center, so I'm not sure how they fought in there. It's almost like it's ancient ruins or something."
"The place was in *ruins*. Stadium seemed like it hadn't been used in years. So old none of the seats even remained, had to stand."
"Old and overcrowded. If I wanted sardines and ancient rocks I'd try to find Atlantis instead."
"beware the colosseo gift shop. that evil lady at the register will rip you off and add items to your purchase. they over charged my card by almost $20 euros."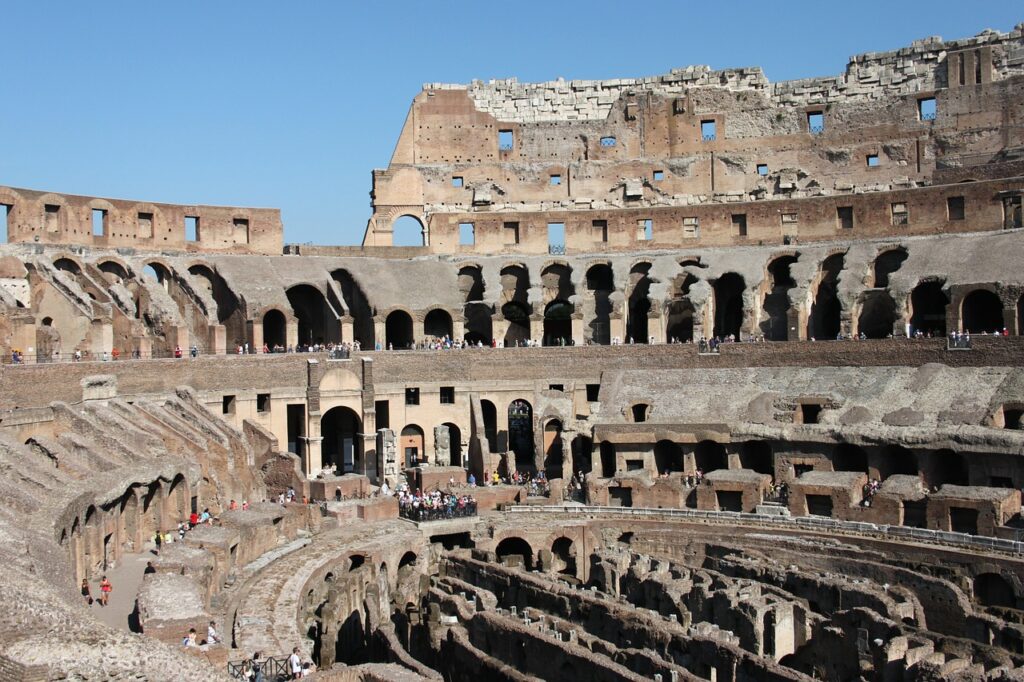 Colosseum One Star Reviews on Trip Advisor
The Trip Advisor website for the Colosseum in Rome have a few ads for booking tours – but most of the site is dedicated to photos and reviews.
There are over 140,00 reviews of the Colosseum on Trip Advisor – with an average rating of 4.5. Over 70% of the reviews are 5 stars, using words such as Amazing, Once in a Lifetime, Exceptional, Excellent, Beautiful, Magnificent, Outstanding, Must-see, Impressive and many other great expressions to explain the beauty of the Colosseum.
The 1% of reviews that are one star mostly complain about the lines. As many say in the better reviews, if you persist in getting through the long lines you can have a great visit.
Below are some of the Colosseum's one star reviews from Trip Advisor:
"Don't go unless you buy a skip the line ticket. It is ridiculous. Line up for 2 hours get inside then line up for another hour to get a ticket. Complete chaos! Colliseum obviously amazing but unless you have literally nothing better to do than queue up while on holiday don't do it!!!!"
"It is disorganised. There are no signs for queues so you could very well stand in the wrong queue just to be turned away."
"This place is so overrated! Even in March, it was swamped with tourists that have no idea which way to turn and overrun by every possible 'guide' that offer 'skip-the-line' tickets. What nonsense! No skipping any lines and no 'cheap tickets specially discounted for you'! Watch out for migrants trying to befriend you with a very friendly 'English chat-up'…you will pay for it one way or another!"
"Colosseum is an awesome place and important for history. It is being spoiled as it is a chaotic place where tourists become victims as the place is out of control."
"It sucks. It really does. Or at least it did for us. Me and my girlfriend waited for hours (after we got a 'skip the line' ticket) just to see 10 000 people walking in circle (literally) taking pictures of metal. They were renovating the colosseum so there was nothing to see, it was all covered in metal and there were actual construction workers with their power drills walking around. We literally payed €45 to go in and get out 2 minutes later."
"Was overcrowded…badly organised…..queues everywhere and going nowhere….lots of steps….to see basically lumps of stone….tour guides were like barking dogs telling people they couldn't go places etc….I was yelled at a couple of times….couldn't get out of there fast enough."
"The place is dirty, overcrowded and full of con artists trying to sell you a selfie stick or a guided tour. You really are better off looking at it online. It's basically an overcrowded derelict building."
"Certainly a ruin… you are left to imagine everything at the flava."
"It's a shame to see the Colosseum in such a dirty and neglected state. Rubbish everywhere and gum spat all over the ground. It's obvious that the people of Rome do not care much about this piece of history."
"The outside is amazing but inside is really underwhelming and not that's interesting."
"After seeing colourful pictures on the internet, you will be disappointed."
"It's stones. Nothing special. Overrated."
"Can't really understand how people can enjoy this ancient wonder any longer."
"12 euro admission per person just to see an ill maintained monument with nothing but dirty old rocks to see."
"Maybe I expected too much, but just a rip off, touts selling over priced tickets, and not able to view the interior with no charge!!"
"Overcrowded overpriced and chaotic! Spent most of the time there queuing for the toilet!"
"Over-priced and over-rated!"
"Going inside costs €20 just to see the old rocks blocked by modern fences and gates, surrounded by a bunch of people taking selfies; really ruins it. Just look at it and take pics from the outside… Tbh tho, it's not that impressive. It looks like a structure that could've been created for a ride at Islands of Adventure."
"Not much to see. It's a nice building but they could do so much more to make it more interactive."
"As usual Security Guards at the entry gate are rude and thoughtless. It isn't a language or cultural difference. They simply don't understand the meaning of manners or what a boost tourism is for their economy. I saw what I wanted to see without putting up with their behavior."
"Just the same site as you will see in pictures & movies."
"Typical italian unorganised and completely unlogical way of letting people think, that they do not have to wait in line to get into the Colosseum of Rome!!!"
"Italians are not very good at getting things organised, but their food is great."
"As we walked around the ruins we heard various tours guides saying, we think this we think that, this may have been the case blah blah. None of them know anything about the place."
"The colosseum is much prettier from the outside. Inside it's just a mess with excavations and inconsistent experiences, crowded and with hard-to-follow explanation panels. Don't waste your time or money going in!"
"Time your visit – don't go in June through August – you will wait hours or be exploited by tour guides who don't truly have the history right. Very aggressive and unsavory grifters and pickpockets. Such a terrible shame."
"Be very careful of having your photo taken by Roman soldiers. They will mob you for money and not let you go until they have got what they think you should pay. The police are useless so do not bother asking for help. Keep away from these thieves."
"Too many visitors and people trying to sell you things you,don't need. Queues are way too long. You can't even look up without someone selling you a queue buster deal which is a complete con. Also very dirty."
"I appreciate that renovations are necessary but the outside was chaotic and the street was dirty this should be a magical site for visitors but it looked like it had just landed there in the wrong place."
"Impressive but worn out. The building looks the best from the outside! Not worth paying the entrance.. the inside isn't worth the money."
"Crowded and boring. Difficult to see anything through the mass of people. Wanted to see it once but now I have I am seriously underwhelmed. Hard even to feel bad about present state of building considering its disgusting history."
"They should try and let the customers understand the original colosseum a little better by (one example) having an easy to find and big display of what it looked like in its peak, this could be a large poster at worst or a sculpture or hologram or video. You might tell me I missed this, but I looked around carefully and still didn't find this and so either the layout isn't great or this is missing. Considering how bad a state the coliseum is in these days (it's falling apart and guess has been for a while eh) they should do more for people to see what it is supposed to look like for sure. Perhaps I'm too populist or mainstream for the next point, but even having a model of the gladiator or weapons would be fun for people who came expecting to get a sense of what being a gladiator meant."
"We spent 40 min in the scorching sun just to see something complety in ruins or covered with metalbars. Dont go to the Colosseum its really a disappointment."
"It's all after falling down and the chariot race never happened. Julius Cesar was rumoured to turn up the day we were there but never showed."
Have you been to the Colosseum?  Are any of the above one-star comments reflective of your experience?  And even if you haven't yet been to the Colosseum, what do you think of these comments?  Please share your thoughts below.
__________________________________________
Please follow and like us: